Moving abroad can be a very hectic time for anyone and if you are planning on moving, then you should begin to prepare yourself well in advance and make a checklist of everything that you need to get organised. Not everything is just about packing your belongings if you do not plan you may arrive at your new destination with some difficulties. Whichever country you are moving to, make sure to gather a lot of information about the place as it will come in very handy at any time. Search online, go to a library, or even ask a friend or family member who may have lived previously to where you are traveling to.
Items to organise before you leave
No matter where you are traveling to when you are moving abroad, you will still need these relevant documents for traveling. See this moving abroad checklist!
Passport:
If you do not have a legal passport, then you need to apply for one. It is mandatory to travel anywhere in the world you must have a valid passport.
Health Issues:
Traveling to different countries you expose yourself to health risks in unfamiliar environments. Medical care can be taken before, during, and after your trip. Consult your doctor if there are any specific requirements or vaccinations that you may need.
Health Insurance:
If you are traveling outside the EEA, you should consider seeking health insurance before you travel.
Irish Driving Licence:
When moving abroad, you should consider checking if can you use or exchange your Irish driving license.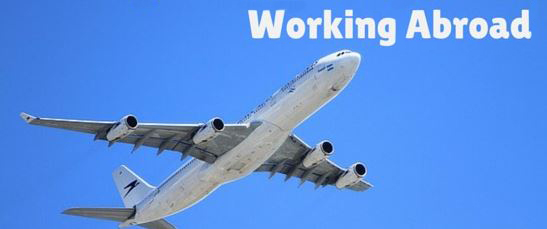 Working Abroad
If you are planning on working abroad within the EU or work in a country outside the EU, you can apply for jobs in the public sector. There are advertisements for jobs abroad in Irish and foreign newspapers as well as jobs listed on job websites to help you find work.
EU Work
If you are planning on working in the EU, you can also check with your local Intreo centre or local employment offices. They generally have a list of advertised vacancies on a noticeboard from a range of European countries.
Find out more info at https://www.gvi.ie/volunteer-abroad/
Volunteering
If you are considering working abroad in another country and would like to work in volunteering, there is a lot of helpful information online to help you with this.

AMC Provides Professional Moving Abroad Services
If you are planning on moving abroad, hiring an international moving company is the best solution for you. We at AMC Removals are an innovative, professional, and well-established removals company who can offer you individually tailored services across Europe and International moves. We can offer you exceptional customer service and attention to detail this is what makes us stand out from the rest of our competition. Our team is highly experienced and trained movers who can ensure that your move will be as stress-free and hassle-free as possible. Our company can offer you very affordable and competitive rates on all moving services. If you are seeking experience and knowledge in the moving industry, then we are the people for you. Contact us today for any further information and let's get you moving today.